Lake Esperance walk, Hartz Mountains
A relatively easy walk to an alpine lake in the Hartz Mountains south of Hobart
Fancy a not-too-hard walk to an alpine lake with views over south east Tasmania? If you're visiting the Hartz Mountains, South of Hobart, then the two hour return walk to Lake Esperance is something I'd recommend. Depending on the weather of course.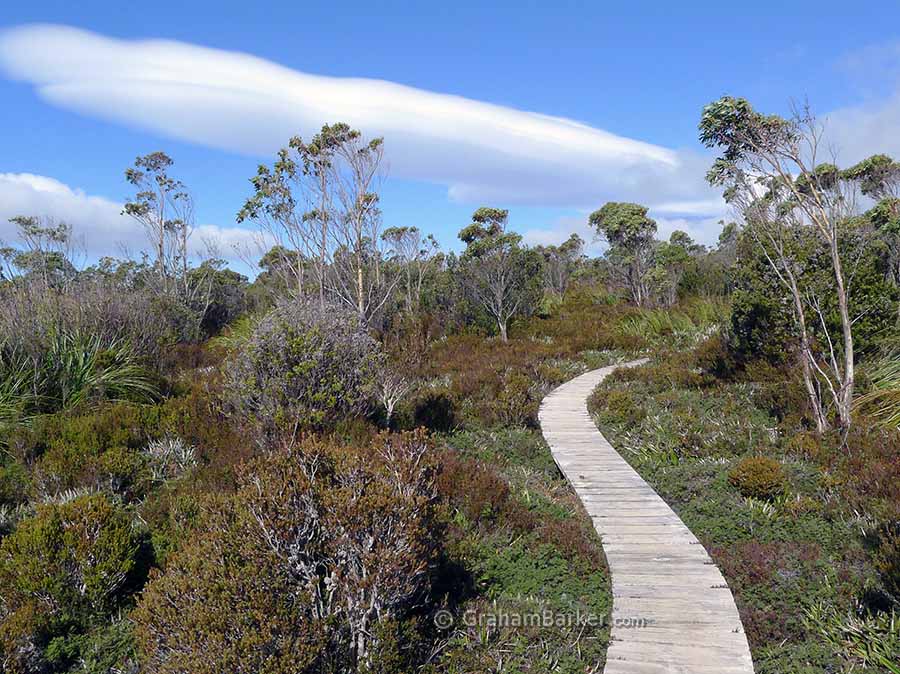 Lake Esperance is one of several glacial lakes on the plateau-like upper parts of the Hartz Mountains. There is one way to get there: from the small town of Geeveston head west on Arve Road, towards the Tahune Airwalk. From this road a lesser road on the left takes you through some pleasant forest then up into the Hartz Mountains National Park. There's a long ascent on a gravel surface which can be a little slippery when wet, but is otherwise okay for normal vehicles.
At the top of the climb there is a lookout, followed shortly after by trailheads to the Arve Falls and Lake Osborne. All are worth a look if time permits. Continuing to the end of the road brings you to the parking area for Lake Esperance, and the longer walk to Hartz Peak.
The walk begins from a shelter with toilets, which is handy. It is classed as an "easy" walk, suitable for most fitness levels, however much of it is steadily uphill with some uneven ground, and it's certainly possible for the less fit among us to get a little tired and sweaty.
Ice and snow can occasionally make the track hard to follow, but when I did the walk it was wind that provided the challenge. Being high and exposed means it feels the full force of the weather, and some very strong and gusty winds following a cold front did their best to blow me away.
I'm not exaggerating when I say I was blown off my feet a couple of times. Also it was cold, but that is easily dealt with by warm clothing. Having a walking stick or trekking poles would have made a welcome difference in coping with the gale.
As the track gains height, views extend across parts of south east coastal Tasmania. Assuming it is clear, of course - the area can be up in the clouds! At a track junction there is the option of continuing to Ladies Tarn or Hartz Peak, which is visible ahead, or turning right for the short distance remaining to Lake Esperance.
Hartz Peak looked inviting but would have to wait for another hopefully less windy day. I turned right to the lake and soon arrived at a large and suitably alpine looking body of icy water. Seating was provided, probably for people to rest while soaking in the view, but I found it valuable for other reasons. After the gusty winds of the walk up, it was a relief to sit on a firm object where I was not likely to be blown over.
The return walk takes two hours, or less if you're fit, but having come this far it seemed pointless to rush back. Despite the wind and the associated wind chill, I enjoyed sitting and contemplating the lake, the distinctly Tasmanian alpine vegetation, the rocky ridges, and distant views. And marvelling at how birds could fly in conditions that would challenge a small plane.
The "rugged" conditions provided a special ambience, making it feel like a hike in the mountains rather than a stroll in a park. But even in tame conditions when spring wildflowers make it more like a park, Lake Esperance would lure me back for another look.
More information
Lake Esperance - on the Tas Parks and Wildlife website